Big congratulations go to Danielle from Market Deeping for passing her driving test with BIG TOM on her first attempt in a very chilly Peterborough.
Danielle had a pretty interrupted journey due to lockdowns and self-isolation but managed to come through the other side and is now the proud owner of a full drivers licence.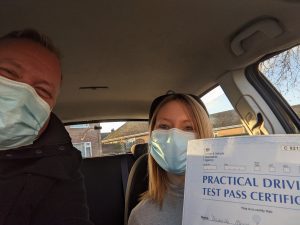 She said of her experience with BIG TOM:
Tom has been very patient and understanding all the way through teaching me to drive. Everything has been clearly explained and Tom would talk through different ways of doing things so you can work out what's best for you. Any questions or queries would be answered. I wouldn't of passed first time without Big Toms driving schools support
Danielle made full use of the range of resources that BIG TOM provides customers including engaging in the pre-driving activities.  She was able to effectively work with all the feedback provided to her within the in-car training and this helped her to recognise the areas that she was good at, where she needed to improve and this helped to gain confidence in her driving.  Credit must also go to her husband who managed to provide private driving lessons to help Danielle pick up the vital practice.