Peterborough is one of our major driving test centres.
It doesn't matter how much or little previous driving experience you have, our intensive driving course in Peterborough is flexible, dynamic, safe and available. Call our bookings line on 01928508833 to choose how you prefer to learn to drive.
BIG TOM has been established as a driving school since 2009 and owes its success to providing locals an opportunity to get driving within days. Our reviews show that we provide great value by offering an efficient service for people who want to get driving fast. We pick you up and drop you off at home with our Home Collection Service.  Your safety is our priority. Read our five-star TrustPilot reviews
Jason Dean from Werrington just got his driving licence in less than 4 weeks of contacting us:"What can I say? Tom is a Legend! He helped a nervous driver gain confidence in a supportive atmosphere. I had very little driving experience, and in just 20 hours he had me test ready and I passed FIRST time!! If you are looking for a patient, knowledgeable instructor Big Tom is your man!  On a side note (but equally important) Tara made the test booking process seamless and kept me updated every step of the way. I was very impressed with the text message the night before my test wishing me luck! It was a nice touch and shows how much Tara, Tom and the rest of the Big Tom team really care about their students."
"I can't believe that I've got my licence so fast.  I picked BIG TOM because of the great reviews it has, and now I can see why.  I'm so pleased that I picked BIG TOM"  Grant Cousins from Peterborough
"Just passed my driving test using BIG TOM's Driving School.   I would highly recommend anyone wanting to learn to drive to do the same.  Brilliant training and bloke, also very nicely organised behind the scenes with Tara.  Big thank you."  Graham Lucas from Peterborough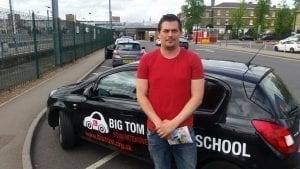 Nick Dobie from Oakham (seen here) said "I found the BIG TOM 5 day intensive course a huge help very flexible and happy to fit in and around a hectic work schedule, unlike most driving instructors who aren't as willing to accommodate.The week itself was really insightful and allowed me to build my confidence, ability and knowledge to the point whereby I not only passed my test but feel able to drive in any situation. I would happily recommend BIG TOM to absolutely everyone, massive thanks it was great."
"I just wanted to say a big thank you for your professionalism, pleasantness and above all patience in teaching Molly to drive, thanks to you she passed first time and is extremely happy to be able to drive and be independent.  You have given her the confidence, knowledge and the tools to be a safe motorist in the years to come so I am very grateful."  Alison Escott from Eye (mother of pupil)
Zoe Briggs from Peterborough said this about BIG TOM after passing her driving test in Peterborough "Learning to drive with Tom helped me so much with my confidence. After not driving for a year and having a couple of instructors before him I felt very comfortable in my experience. I passed on my 2nd time and would highly recommend Tom to anyone looking for a friendly instructor who can give them the confidence they need on the road."
Andy Graham said this after taking out our intensive driving course in Peterborough  "I found learning with Tom to be very effective. He doesn't pressurise you when you make mistakes and makes it a cool calm driving experience. I had very little driving experience when I started, and passed my test within 9 days, and I put that down to the way I was taught. Very effective and efficient service – much appreciated. Will definitely recommend to anybody. Bargain price too!"
"After an enjoyable and positive driving experience this week, I am happy to recommend Big Tom Driving School to anyone looking to have lessons. Tom has a natural ability to offer multiple strategies for learning to drive whilst also encouraging students to maintain autonomy over their learning. His calm and friendly personality also put me at ease immediately; leaving me free to learn the skills required. I never felt pressured or silly following mistakes I made, which was a refreshing change to instructors that I have worked with previously. Thank you so much Tom" Ria Steventon from Peterborough
"I took the intensive driving course with Tom Ingram and found him to be very approachable and informative.  I found the course very beneficial and enjoyable at the same time, not only enabling me to pass my test first time but also increasing my knowledge and awareness towards driving safely.  I would highly recommend BIG TOM to anyone learning to drive"  Sam Jones from Sawtry
"I started the week very nervous as I had put off driving for many years, but after only a few days I started to overcome the doubts I had about driving.  I am now feeling a lot more confident and really want to push on and get on the road thanks to the BIG TOM intensive driving course.  The course covered all the topics of driving and I have gone from never even sitting in a drivers seat to driving all over Peterborough.  All my questions were answered fully with lots of information and feedback which has greatly helped me.  I really enjoyed starting to learn to drive in a relaxed, friendly and safe environment"  Matthew Pepperell from Peterborough

Your driving training in Peterborough will make full use of the differing driving conditions offered in the City Centre as well as driving out in towns/villages like Etton, Yaxley, Peakirk, Deeping and Stamford. This ensures that you receive an interesting, stimulating learning experience, and also that you are able to build your driving experience in a variety of areas.  We help you to identify your strengths and weaknesses so you can practise roundabouts, dual carraigeways, manoeuvres in a safe, stress free learning environment.
Contact us NOW to Book your Course