Our driving test pass rate is ABOVE the national average of driving instructors (DVSA Driving Test Data Report)
For people in a hurry and want a driving licence quickly we have a superb intensive driving course available for you right now. Simply call 01928508833
These local Bourne residents describe their experience of Big Tom Driving School:
Kyle Starbuck from Billingborough "Brilliant for practising all aspects of driving in the safest way, as well as gaining and maintaining confidence"
Dalton Marsh from Bourne who passed his driving test on his first attempt on Day 5 of his intensive driving course: "I enjoyed his teaching style, calm and patient which suited my learning style"
Georgia Galloway from Bourne "My experience of learning to drive was very positive thanks to my lessons with Tom. I started out with very little time behind the wheel but was helped to feel very calm and relaxed. He adapts the learning techniques to you as an individual, ensuring you learn at your own pace. I started out with very little confidence, but thanks to Tom and his calming influence this was overcome quite quickly. Mock tests helped me prepare for the real practical test and assisted in reduci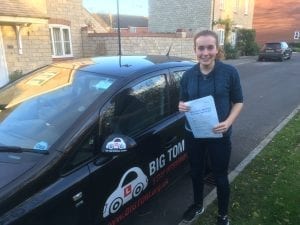 ng my nerves for test day. I knew what to expect so there were never any surprises. Tom also has lots of useful videos online which help with tackling more difficult techniques or situations. Overall my experience was fantastic and I would recommend anyone looking to start driving to give Tom a call!"
Oliver Stephenson from Carlby "I started driving with Tom after failed a test with another instructor. He built my confidence by giving me clear instruction on how to improve my driving. He used different techniques to show what to do. I found the mock tests we did really helpful and showed me exactly what the examiner would be looking for. Driving every day with Tom gave me much more experience than having a lesson weekly. Tom made everything easy by booking my initial test and then finding me a cancellation because he thought I was ready to take my test earlier. On day 5 I took my test and passed with no driver errors. I would definitely recommend Big Tom Driving School and wish I'd gone with Tom in the first place."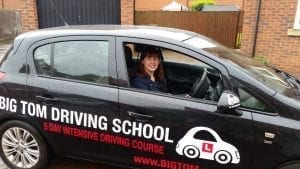 Sophie Pick from Bourne "Calm attitude to teaching, reassuring for beginners and willing to go at the learners' pace. Would recommend to anyone looking for a reliable and friendly instructor"
Zoe Parry from Bourne "As an older learner and parent, I felt it suited my needs more to do an intensive driving course.  After reading up on them, BIG TOM Driving School was the best choice for me.  Enjoyable, relaxed, friendly experience.  Very good teacher!"
Patrick Bishell from Bourne "Would definitely recommend this course to others learning to drive!  Learned so much on the course and was really enjoyable"
Harry Stanbury from Bourne "Big Tom was a great driving instructor and I would recommend him to anyone looking at learning to drive. He is very thorough in his work and always looks past the test not just looking at getting you to pass. Big Tom never made me feel nervous even in the early days and I thank him very much for the help!"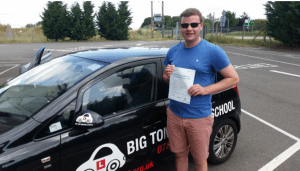 Summer Sleight from Bourne "I'd like to thank Tom for helping me to pass my driving test first time, he did not just prepare me for the test but driving in real life, with real-life situations. Tom is a very calm person and was able to help me stay calm when I didn't do things correctly. He never got frustrated with me and kept a calm manner. He is very professional and polite, we were able to have general conversations and have a laugh when learning how to drive. I thoroughly recommend Tom and his teaching style. Thank you Tom"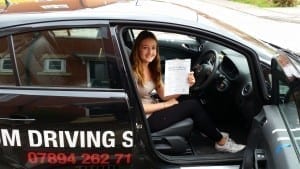 Emilie-Jane Walker from Bourne "Would recommend to anyone! Great for beginners, calm, patient and very knowledgeable"
Karl Gregory from Bourne "Very professional and informative, extremely helpful, would definitely recommend Tom to anyone"
Liam Mountford from Bourne "Highly recommend Tom, and would like to thank him for helping me my pass my test, not only is he a great guy but also a fantastic instructor and has a lot of time for his students. Tom's knowledge of driving shows through his teaching and has great patience and made me feel at ease when driving. All-round great instructor and top bloke cheers Tom!"
The very popular Intensive Driving Course in Bourne offering an effective way to learn to drive with the Big Tom Driving School Quality & Value trademark. Watch this brief good news story of just one Bourne resident who is a very satisfied customer.
We also provide conventional driving lessons for those who want to take the pace a bit slower.  Check out the BIG TOM blog here on this site to see how many BIG TOM customers have been delighted with the service that we have been providing since 2009.  The core value of this driving school is making learning easier for our customers.  We offer a range of high-quality learning resources.
Click through to our handy FAQ page and contact us now to quickly pass your driving test in Bourne.  Here is owner Tom Ingram who gives driving lessons in Bourne.
Learn to drive in Bourne with Big Tom Driving School, where you will "Drive more, to experience more, to learn more". Call our Bourne office now on

01928508833

 to make a booking.