Big Tom Driving School specialises in intensive driving courses in Grantham and surrounding areas.
Need a driving licence fast?  Call our Grantham office now on 01476 850 050 to make a booking.
"Highly recommending Tom and big Tom Driving School and here's why…. I was NEVER going to be a driver.. NEVER NEVER! Then I found Tom , the only instructor who's managed to calm me down enough to get out of 2nd gear. I have severe anxiety and also a condition which affects my memory , Tom would teach me things and I would forget but he didn't ever get stressed with me or even raise his voice … not once! He stayed calm and patient and yesterday I passed my driving test! Tom was never late to a lesson, never on his phone during a lesson. So many other instructors are late, rude and impatient. If you want a driving teacher who takes his job seriously ad does everything he can to make you feel ok, then Tom is your guy :)"  Rhiannon Kirby from Grantham
Customers come for BIG TOM Intensive Driving Courses from Grantham and much further afield using the mainline train station service. Customers get a reliable, professional service as we know how precious their time is for them. We provide a fast test booking service so that we jump these long queues for driving test slots. We have over 80 customer reviews across all our channels which show it is possible to get great value driving lessons in Grantham with BIG TOM. Call us NOW to discuss your intensive driving course in Grantham 01476 850050
Our customers need a licence fast! See our BIG TOM blog for how many are passing their driving test on Day 5 of their BIG TOM intensive driving course in Grantham.  Job changes, non-UK driving licences, going to Uni, moving house, skilling up at work – we get results, we have a proven track record of happy and successful customers. Whether you actually live in Grantham or perhaps on the outskirts matters not, we pick you up/drop you off at your home or work. Our course includes the test fee!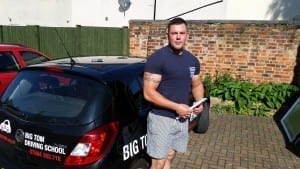 Lloyd Pretlove from Grantham (shown here) passed his driving test first time within 1 month of his employers contacting BIG TOM. Veronica BURNETT who booked up his BIG TOM Intensive Driving Course in Grantham said "Fantastic work Tom. I would be very pleased to endorse any recommendation for the service you have provided and we would certainly utilise your services if the need arises in the future."
Driving lessons in Grantham | Bottesford | Great Gonerby | Harlaxton | Allington Sedgebrook | Barkston | Ropsley | Great Ponton |Gonerby Hill Foot