Intensive Roundabout Driving Course in Peterborough
February 3, 2017

Categories: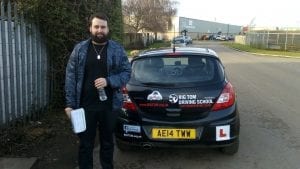 Joshua Rowles from Thurlby passes his intensive driving course in Peterborough
Josh had some previous driving experience in Kent 3 years ago so was a little rusty on his driving.  He decided to take his intensive course in Peterborough over 4 days of this week.  He passed his test exactly 1 month after booking his course.  On one of the days, Josh drove in 3 counties, Northamptonshire, Cambridgeshire and Lincolnshire.  He drove up the multi-storey car park at Queensgate, drove to Whittlesey, Yaxley and over at Crowland for a variety of driving conditions.  But his main effort was on the roundabouts at Peterborough.
Tom Ingram who is the owner of BIG TOM said:
"It was the big roundabouts in Peterborough that Josh was wanting to improve on.   While Josh was taking his driving test an Instructor introduced himself to me at the test centre and told me how his pupils get so much benefit out of the Eye roundabout driving video on my YouTube channel.  Josh had also mentioned to me that he had not appreciated the importance of the white arrows on the approach until he had seen our driving videos.  Whilst I am happy to provide these videos, not all of them are for public viewing.  BIG TOM Customers do also get exclusive access to more driving videos which our post-course survey feedback tells us is much valued.  The important thing from my point of view is how confident and competent my pupils feel having done the BIG TOM course.  Josh said to me after passing his test today with just 2 minors that he will definitely be recommending BIG TOM to his mates which is kind of him."   
BIG TOM Driving School Peterborough Bookings Contact Tara NOW 0775 607 1464