Trainee Driving Instructors in Peterborough
April 11, 2017

Categories: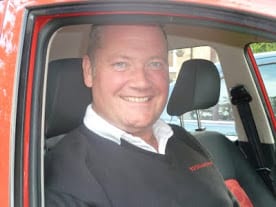 On a driving instructor recruitment campaign in Peterborough, Tom Ingram (Owner of BIG TOM Driving School) describes the process of training to become a driving instructor.
Changing career is no small thing and at BIG TOM we take considerable care with our driving instructors from the very initial contact they make with us, all the way through the qualifying process.  People will consider joining us for a variety of reasons which include wanting an interesting line of work that fits around their home commitments, as well as parents of young ones who find that the time is now right to get back into work and start earning some extra cash.
One advantage that BIG TOM offers that the larger national driving schools struggle with is the personal touch of being flexible.  BIG TOM doesn't demand excessive driving instructor training fees of around £4000 to be paid in advance.  All that does is tie in the customer to receiving potentially sub-standard training.  If an organisation offers good quality, professional training it should not need to revert to these tactics.  At BIG TOM our trainee instructors have full control of how much they train, and the financial cost they want to commit to as they go along.  This is no small point, a recently trained driving instructor at BIG TOM made this point on qualifying with BIG TOM:
I researched other ADI training providers and found them to be; expensive, inflexible and impersonal and through them I would not have been able to pursue this.
BIG TOM trainee instructors can train at times that suit them, around their existing schedule.  There are 3 tests in total that the DVSA (Driver and Vehicle Standards Agency) have in place for the qualifying assessment.  They breakdown into a theory test, a practical driving test, and an instructional test.  This third instructional test (which is referred in the industry as "Part 3") uses actual learners in the test, rather than the examiner role playing.  BIG TOM is ideally suited to provide plenty of pupils for BIG TOM trainee driving instructors.
One very common question that is asked of us is how long will it take to train.  A recent instructor took 24.5 hours of 1:1 training, splitting them up into durations that suited his personal schedule.  Although typically the industry tends to do training in 4 hour blocks, this is not something that BIG TOM insist upon, quite the opposite in fact.  Paying attention to the learning environment for trainee driving instructors is a skill that we will want those same instructors to transfer over when they work with BIG TOM learner drivers.  In our experience it is incredibly important to make sure that the learning environment is ideal so as to maximise the effectiveness of the training.  And let us not forget that investing in re-training for ourselves is also supposed to be a fun experience.  No-one should have to endure uncomfortable, unexciting training, we make every effort to ensure we cover the necessary training so that we are thorough, but at the same time our instructors enjoy their time re-training.
If you feel like you want more information, contact Tara on recruit@BIGTOM.org.uk or call direct on 0775 607 1464