James passes his driving test today in Grantham on his first attempt
James Williamson from Gillingham in Kent travelled up to take the BIG TOM intensive driving course.  He spread his in-car training over a 4 day period which ended today on the day of his driving test.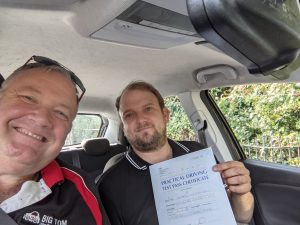 He booked up his course with BIG TOM Admin on 20/09/2021 and amazingly managed to get his full driving licence just 17 days later!
A very happy James says about his BIG TOM experience, "Open a Kent branch" !
Owner of BIG TOM Tom Ingram says:
This is a typical example of how we can help pupils get super-fast results using our responsive intensive driving course.  James is a plumber by trade and took the days off work to do the course having seen BIG TOM's raving reviews.  We go above and beyond to exceed our customer's expectations – well done James!   Once again this proves that our resources and teaching techniques really manage to deliver successful results.
If you are a busy person who hasn't got the time to take a long string of very slow pay as you go driving lessons then the BIG TOM intensive course offers you an alternative way to learn to drive, and get your driving licence much quicker, just like James has done today.  Other driving training providers can only stare in amazement at the responsiveness of the service provided to BIG TOM customers.  Our systems prove that we have got the cutting edge to really adapt to the needs of our customers.  It is this dynamic element of our service that means customers just like James will travel hundreds of miles to gain the benefits.