Help is here for you
The driving training industry in the UK is changing. The regulatory body (DVSA) is trying to adapt to the extreme demand for driving tests.  Right now, customers need help.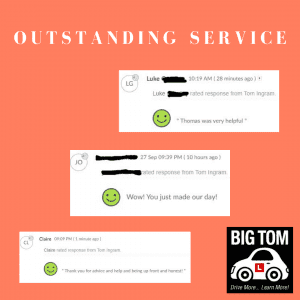 Clear, honest advice
Never before have BIG TOM customers needed clear, honest communication to guide them through their experience.
We have a goal for customer support
The goal for BIG TOM Admin is to avoid confusing our customers, keep our message clear and avoid any misleading jargon, and give timely support.
We have created a range of system options to achieve that goal.
Live customer service chat on our website gives up to date, meaningful advice responding to customer questions AND
We have developed a comprehensive Help Centre that customers can sign in to access. The information includes monthly newsletters, announcements on current issues like fuel shortages, and a range of high-quality information sheets from each BIG TOM customer experience department AND
There is a dedicated Twitter account for BIG TOM Admin where customers can receive support AND
BIG TOM Admin is committed to responding to customer emails and calls within 24 hours – Monday to Friday.
We are measuring our performance levels
We know that without targets, goals are not much more than dreams or wishful thinking.  At BIG TOM, customer service performance levels are too important to be wishful thinking.  We will not stop at giving our customers the highest levels of service that we think they deserve.
So, be assured, we are here to help you
All of this support is provided to give some honest advice and guidance in these changing times. If ever there was a time when customers need the reassurance of a transparent service with integrity, it is right now. And that is why you can sit back and relax while we work tirelessly for you in the background.
P.S. Driving test pressure is making people feel uncomfortable, rest assured, we are here to offer you honest, clear and timely advice so that you make the right choices.