According to the 2023 driving instructor survey of 2023, only 23.4% of respondents stated that they work 35 hours or more in a week. Over 75% of driving instructors tend to treat their occupation like it is a part-time post and that is bound to create difficulties for learner drivers who need to find a driving instructor now.
For Bourne residents, BIG TOM provides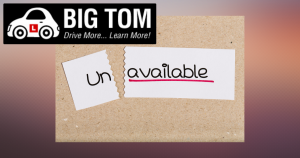 pay as you go driving lessons from 6am – 9pm on weekdays. Some pupils squeeze in a driving lesson before they start their working day, and others will have a lesson at about 7pm. The fact is that we are all busy running quite hectic lives and there can be not enough time in the day to fit in a driving lesson. But if your driving instructor is only working part-time hours in any case, then it makes it even more difficult to get regular driving lessons each week.
Another finding of the above survey stated that the vast majority of driving instructors in the UK, over 85%, charge more than £30 an hour. Here at BIG TOM, again for Bourne residents only, they can obtain driving lessons for £30 an hour. Only 14.9% of driving instructors across the whole country offer £30 or less driving lessons. This means that on two major factors, price and availability, BIG TOM is helping the local community get their full driving licence quicker and for less cost than the national average.
There are no waiting lists here at BIG TOM, pupils who live in Bourne can start their driving lessons immediately (subject to being in possession of a provisional licence and eyesight requirements).
Book up your driving lesson on 01928 508 833.