Good news for BIG TOM customers!
The recent efforts of the DVSA to increase driving test availability are beginning to show through. At the time of writing, there are no less than 20 driving test slots available next week in one of our test centres, yes, 4 days away.
At Boston, one of the many driving test centres that BIG TOM uses, there are currently 9 driving test slots available for Monday 9/10/23, 6 slots available on Tuesday and another 5 on Wednesday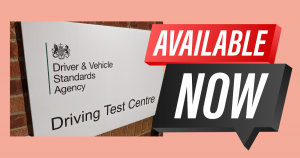 – so there are a whopping 20 test slots for next week in just one driving test centre alone.
Clearly, BIG TOM has no control over the actions the DVSA take to increase test capacity so while there can be no guarantees of future availability, the early signs are very promising – long may it continue!
One of the benefits to customers on the BIG TOM intensive course is that the driving test slot is sourced for you, by us, with no effort required by the customer at all. The customer first receives an email notification of the driving test booking, done on their behalf. Just like Kevin received this morning for his course that is planned for 2 weeks time.
We know that customers who purchase our courses want to get their driving licence as soon as possible, so we make every effort to arrange all of our resources and course benefits to enable that opportunity to happen – we have been doing precisely that for years as this blog demonstrates.
This latest development is a very welcome departure from the recent news from the regulator, the DVSA, to say that on average, nationally, the driving test availability waiting time has increased from 16 weeks to 20 weeks. There appears to be evidence that the tide may well be turning as capacity increases.
It is this service of sourcing driving test slots that enables our customers to sit back and relax while in the background, we work tirelessly to find a short notice driving test slot. We know from previous customer surveys that this benefit is very much appreciated and valued.
Book up an intensive course TODAY – 01928 508 833