Driving Test in Grantham on a Saturday
July 16, 2015

Categories: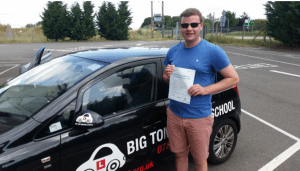 Book your driving test for the weekend.
Harry (shown here with the big smile), passed his driving test in Grantham last Saturday with BIG TOM Driving School (0800 689 4174 ). It was his first attempt at the driving test and he comfortably passed with just 3 driving faults. He managed to bag himself the test slot by making use of the cancellation service that is freely available to everyone.
To access any cancellations, you first of all need to initially book your driving test https://www.gov.uk/book-driving-test and you will then get a booking reference number. Depending on how busy the Driving Test Centre is at the time you book will determine how far in advance the test slot is that you have been given (this varies across the UK but can be over 4 months). If you then want to search for a different date, you simply use this link  https://www.gov.uk/change-driving-test.
The frequency at which you check for cancellations will greatly affect your chances of finding a new date/time that you like. I have known dozens of BIG TOM Driving School pupils in the past who have used this feature to great effect. It is entirely free and open to all the public – in fact, no organisation has any more access to these slots than the public do, so my advice is…. USE IT!
It's a little bit like jumping the queues at Alton Towers but the key difference is, you do not need to pay a single extra penny for getting an express test slot – you can literally jump the queue by months, it really is that good.
BIG TOM Driving School (Bookings: 0800 689 4174 ) wishes Harry all the very best with safe driving for years to come, and congratulates him for passing his driving test in Grantham on a Saturday.