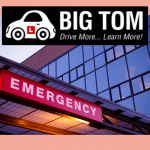 There are currently provisions for critical workers to take emergency driving tests and this blog will help explain the process.
It is the employer who is to apply to the DVSA to apply for an emergency test.  Typically this involves NHS health and social care workers, the emergency services and local councils.  It is intended for employees who drive as part of their job and respond to 'threats to life' as part of the job.
If approved then the employer provides a copy of the test booking as well as the original application request to the employee.  This is important as the employee may be asked for these documents by the police when driving on the roads.  This provision is only intended for people who have those documents, if you fulfil the criteria but do not have an emergency test booked for example, then you can not be provided with driving training.  It is also necessary to have proof of your employment status such as an employer's ID badge on you when you practise driving and when you take the driving test.
This provision is only being provided by DVSA driving examiners who have volunteered to carry out testing at the time of the lockdown.