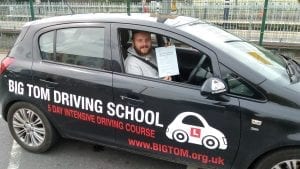 Luke Brook from Huntingdon gets his driving licence today, passing his driving test in Peterborough.
Luke (seen here with his new driving licence) showed some real grit and determination passing his driving test today with just 3 minors.  He took his intensive driving course with BIG TOM by travelling up on the train and when he did not pass on his first attempt, he showed true character to persevere when it would have been very easy to give it up.  Tom Ingram was his driving instructor and says of Luke:
What a great effort by Luke.  This has been a real experience for him where he has had to suffer the lows and the highs.  I take my hat off to all pupils that pass the driving test with us, but I particularly admire those like Luke that keep on going even when they don't pass straight away.
At BIG TOM once a customer has been authorised for test, they are given continual support and guidance to see the job through.  Whilst ultimately the pupil is the one taking the test, at BIG TOM we will not give up on anyone – the support remains for them until they get their driving licence.
BIG TOM Driving School  Enquiries: Admin@BIGTOM.org.uk  Sales: 07756 071 464