Big Tom Driving School specialises in intensive driving courses in Deeping and surrounding areas.
Prefer pay as you go driving lessons? Call us direct now on 0749 836 4211 to make a booking.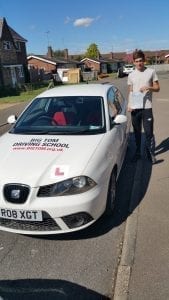 We have a reputation for helping our customers achieve their goals in the timescales that they want, and in a safe, enjoyable learning environment. We have a comprehensive BIG TOM COVID-19 Driving Training Strategy to minimise risks.
Jack Keatley from Market Deeping, seen here with his driving licence recently passed his driving test with BIG TOM and said "I am so pleased, now I can help my Dad out with the driving". It really is amazing how passing the driving test changes lives in such a positive way.
Residents in Deeping have the added advantage of being able to drive to the nearby towns which will raise confidence and competence. We have over 80 customer reviews across all our channels which show it is possible to get great value driving lessons in Deeping with BIG TOM. Call us NOW to discuss your intensive driving course in Deeping 07498364211
Our customers need a licence fast! See our BIG TOM blog for how many are passing their driving test on Day 5 of their BIG TOM intensive driving course in Deeping. Job changes, non-UK driving licences, going to Uni, moving house, skilling up at work – we get results, we have a proven track record of happy and successful customers. The beauty of the BIG TOM course is that we come to you! Pick up and drop off at your home/work. Our course includes the test fee!
Tom Ingram (Owner) says "Allow me to show you how enjoyable it is to learn to drive in Deeping"
At BIG TOM, priority is placed on ensuring the learning environment is stimulating and effective. Choosing cheap driving lessons does not necessarily make the process more cost effective as this video from a customer shows; where she paid £2000 taking boring, unchallenging driving lessons at £20/hour. BIG TOM customers are invited to share their thoughts and feelings as they learn to drive, our driving instructors adopt a range of techniques to involve the customer, identify strengths and weaknesses and this is often very motivational. Repeatedly driving around an area that you are familiar with on a cheap driving lesson can lead to frustration, disappointment and much regret. The reason why customers are travelling from afar to experience BIG TOM is because they can see that the learning experience is effective and actually saves money.
Driving lessons in Deeping | Deeping St James | Market Deeping | Deeping St Nicholas | Baston | Langtoft |