For people who are fed up with boring driving lessons that are in slow motion.
Quicker response, better value for money and keeping it safe.  Call us direct now on 0749 836 4211 to make a booking.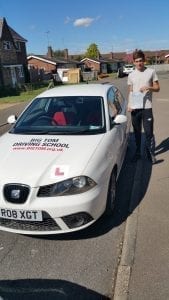 We have a reputation for helping our customers achieve their goals in the timescales that they want, and in a safe, enjoyable learning environment.  We have a comprehensive BIG TOM COVID-19 Driving Training Strategy to minimise risks.  We are a responsible provider of driving training.
Jack Keatley from Market Deeping, seen here with his driving licence recently passed his driving test with BIG TOM and said "I am so pleased, now I can help my Dad out with the driving".  It really is amazing how passing the driving test changes lives in such a positive way.
"The only feedback I can really give is a positive one. You were really helpful and a calm Instructor, easy to talk to and always made me feel comfortable. You were a very understanding Instructor and were there to help every step of the way. Thank you."     Darran Carroll from Peterborough
"Really great experience.  Throwing myself at the deep end with Tom's help was really beneficial.  Top bloke"  Alex Blades from Langtoft
Residents in Deeping have the added advantage of being able to drive to the nearby towns which will raise confidence and competence.  We have over 100 customer reviews across all our channels which show it is possible to get great value driving lessons in Deeping with BIG TOM. Call us NOW to discuss your intensive driving course in Deeping 07498364211
Our customers need a licence fast! See our BIG TOM blog for how many are passing their driving test on Day 5 of their BIG TOM intensive driving course in Deeping.  Job changes, non-UK driving licences, going to Uni, moving house, skilling up at work – we get results, we have a proven track record of happy and successful customers. The beauty of the BIG TOM course is that we come to you!  Pick up and drop off at your home/work. Our course includes the two practical test fees!
"If you are looking for a driving instructor.. look no further!!! Tom is the best there is 🙂
I did the intensive driving course with Tom. Tom is a great driving instructor. He is patient, supportive and explains things really well. As the driving course went on, my confidence grew and passing my driving test was a huge boost. Just want to say a huge thanks to Tom who encouraged me to persevere with my driving and it certainly paid off. I would highly recommend booking with him"   Haleema from Peterborough
Tom Ingram (Owner) says "Allow me to show you how enjoyable it is to learn to drive in Deeping"
"Very much enjoyed the sessions.  Allowed you to go at your own pace but at the same time pushes you to improve.  Lots of reflection during lesson at points that go wrong or things that went well"  Emily Helliwell from Thurlby
"Thanks for all your help and instruction on teaching me to drive (and pass my test first time). A few points about my time learning with you:  I found you very easy to communicate with, both in the car during lessons and on the phone (text). You put me at ease on the very first lesson with you and you were always so calm even when I made mistakes. It was nice that you were always early so my lessons always started on time.  You were also very good at explaining things in the simplest of ways and not over complicating things. I also thought it was fantastic that nearing my test date we took my lessons in my own car after we'd decided to use my car for my test. This was so useful as I wasn't swapping from one car to another and I'm sure this played a big part on my test.  I really want to thank you again for getting me to such a high standard which will hopefully stay with me for life and I'm sure this is why I passed with only one minor (stupid one)." Liam Watkinson from Stamford
"BIG TOM helped me to pass first time with only 1 minor! He is really patient and calm, covering all aspects of driving. For example, multi story car parks and back road driving. Thoroughly recommend him!"   Dalton Harris from Peterborough
At BIG TOM, priority is placed on ensuring the learning environment is stimulating and effective.  Choosing cheap driving lessons does not necessarily make the process more cost-effective as this video from a customer shows; where she paid £2000 taking boring, unchallenging driving lessons at £20/hour.  BIG TOM customers are invited to share their thoughts and feelings as they learn to drive, our driving instructors adopt a range of techniques to involve the customer, identify strengths and weaknesses and this is often very motivational.  Repeatedly driving around an area that you are familiar with on a cheap driving lesson can lead to frustration, disappointment and much regret.  The reason why customers are travelling from afar to experience BIG TOM is that they can see that the learning experience is effective and actually saves money.
"My experience of learning to drive was very positive thanks to my 'Five Day Intensive Driving Course' with Big Tom. I began feeling very nervous as I hadn't enjoyed previous lessons and will eventually be driving with my young baby on board; I was helped to feel calm and relaxed from the outset with a pre-course call with Tom to discuss my reservations and needs. Tom really adapted the learning techniques to me as an individual, ensuring I was learning at my own pace and the content really started to 'sink in'. I started out with very little confidence, but thanks to Tom and his calming influence this was overcome quickly.
Tom has lots of informative videos online which help with tackling more difficult techniques and situations. I'm looking forward to my follow-on training with Big Tom and so far my experience has been fantastic and I would recommend anyone looking to start driving to give Tom a call!" Debbie Kelly from Thurlby
"Unlike any other instructor, highly recommend, made learning to drive fun, wouldn't learn with anyone else!" Helen Gilberto from Peterborough
Driving lessons in Deeping | Deeping St James | Market Deeping | Deeping St Nicholas | Baston | Langtoft |