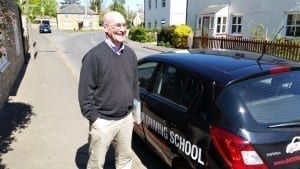 Congratulations to John for passing his driving test first time!
Here is John, immediately after passing his driving test in Peterborough this morning. He has every right to be pleased with himself. At the age of 64 he has come to driving a little later than many, but was very keen to share the burden of driving with his Wife when they go on long journeys.
Although John would be first to say that he never looked forward as such to his driving lessons, he always felt comfortable in the car, and did the vast majority of his sessions in 2 hour blocks. This is what John had to say about his driving lessons last year:
"As a 63 year old who had never had a driving lesson I feel very lucky that I found Tom Ingram through the Directory. He is very patient and has a clear sense of how progress is made; he also has the ability to communicate that sense. He also has an excellent sense of humour and is open to the learner's suggestions. All of which means that the lessons are enjoyable even for someone who still finds driving often intimidating."
Big congratulations to John for passing his driving test in Peterborough on the first attempt and many happy years of safe, enjoyable driving with your Wife.