Extraordinary response times from BIG TOM
Congratulations go to birthday boy Jamie from Whaplode who passed his driving test today in Boston.  He had a tough journey learning to drive what with lots of interruptions from lockdowns and his previous driving instructor catching Covid put a halt to driving training.  His Dad got in touch with us here as he was feeling pretty let down from the response of the previous national driving school; Jamie was looking at several months delay in getting his licence with them.  However, we were able to accommodate a course for Jamie and the course was booked on 13/12/21.  Jamie started his in-car training on Friday and practised every day, including the weekend where he practised in Peterborough as well as Boston.  He trained over in Peterborough so as to receive practice of dual-carriageways as Boston has none with entry/exit slip roads.
                                      In just 5 days of training with BIG TOM, Jamie now has received his full drivers licence, on his birthday.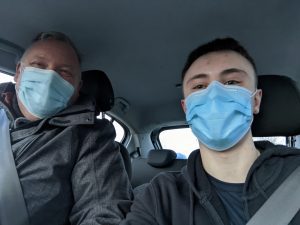 His driving instructor Tom Ingram says:
"This is a great Christmas story and one I'm especially proud of.  Poor Jamie was feeling pretty confused about his experience of learning to drive – there were many interruptions and he was quite understandably feeling frustrated.  Once again, BIG TOM Admin have shown how dynamic we can be to bring about successes like this.  There won't be many intensive course providers who can match a turnaround like this one.  From purchasing the course to passing the driving test in just 11 days.  That is the kind of response that BIG TOM customers can receive.  And we do not compromise on quality – as is shown here where Jamie went out of his way to practice in a different city so that he got vital experience of entering and leaving dual-carriageways.  Happy birthday Jamie."
All of the resources were provided to Jamie including his personal in-car training pack (these are purchasable separately for learners who are undertaking private driving training lessons but want the reassurance of top quality guidance notes).  BIG TOM has proven time and again to provide the highest level of technical training, Jamie passed his test today with just two minor driving faults committed, but also within a very safe training environment.
Happy Christmas to Jamie and his family, and everyone else monitoring our blog.  Safe driving.