Successful intensive driving course in Grantham
January 14, 2016

Categories: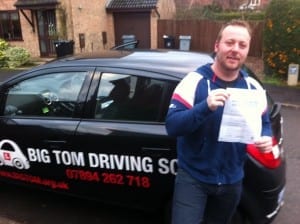 Read here how Gordon managed on his intensive driving course in Grantham (01476 850 050 ), getting a "first class" driving test pass
Here is Gordon, standing proud having just passed his test after his BIG TOM intensive driving course in Grantham. This is what he has to say about his experience with BIG TOM:
"What a driving instructor Tom is! A great driving instructor. Having come from a full bike licence and wanting to be on four wheels I chose tom and was never disappointed with him at all. He is really friendly and gives great advice and will put you at ease and also make sure you will pass your test with a high standard. I really cannot recommend him enough. I passed first time only one minor. Job well done. Thank you Tom"
Gordon managed to get his driving licence quickly by making use of the way BIG TOM operates; we cater for busy, professional people who need to get a licence fast. We have a proven track record as the rest of our Customer Reviews will testify for getting results, and making people happy. This is a life changing experience, and you really do not need to wait several months to pass your driving test. We are taking bookings in Grantham right now, call our office on 01476 850 050 , and take the first positive step to freedom and independence.
BIG TOM Driving School –  Intensive Driving Course in Grantham