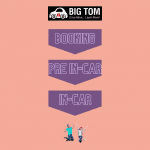 This blog will help you by providing some tips for learning to drive.  We talk about how our programme has been devised to make learning easier and include a video that suggests common reasons for having problems learning to drive.
There are very clear advantages to using the BIG TOM intensive driving course as can be seen by all of our customer reviews.  It is important however to recognise that when you purchase a course, you are not purchasing a full driving licence, there is a level of interaction that is needed with the service that we have carefully put together.  Take what we offer once a booking is made for example.  For absolute beginners, it is beneficial to interact with our pre-in-car training digital resources.  These resources will help you build up a baseline knowledge of key concepts of safe driving techniques.  We estimate this saves our customers in the region of a full 10 hours across the entire length of a training programme, that is 10 hours less time and money used in-car.  But this saving is only when you interact with the resource that has been made available – it would be unwise to think you can make this saving if you don't do the preparation.  For an accelerated learning programme to be accelerated, it does require looking upon it differently to how you might look upon standard driving lessons.
One thing that we always encourage our pupils and their parents to appreciate is what is involved in learning to drive on the roads of today.  Things have moved on a great deal to 30 years ago.  It simply isn't the case that there is never a problem learning to drive, under-estimating the task in hand, especially if it means you don't prepare properly;  it is almost designing in failure.  At BIG TOM, we strive for positive outcomes, we want our customers to have success in using our training programme.  But it will be time well spent to consider how you like to learn so that you own the process.  I would recommend taking a look at this video here, don't be put off by the date, the content is very relevant to you if you are planning to learn to drive.   It will help to raise your awareness of the problems some people experience learning to drive.  It would be nice if it was just a given that everyone finds it very easy to learn to drive, but in our experience of providing driving lessons as well as intensive courses, it doesn't pay to assume that it is going to be easy; learning any new skill is effortful and driving is no different.
We offer our pupils a superb service with a mixture of resources at different stages of the training programme and we strongly recommend they interact with the content.  Everything is designed for the purpose of making learning easier, something that we pride ourselves in offering our customers.