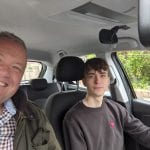 Huge congratulations go to Alastair who has shown today that when he eventually got a driving test, he passed it – within 5 days of completing his BIG TOM course.
He has previously had his driving test changed multiple times due to lockdowns and so it was with great relief this morning that his test went ahead as planned.
His driving instructor Tom Ingram who is the owner of BIG TOM Driving School says:  "What patience and resilience Alastair has shown!  To have faced disappointment so many times over these past months with one postponement after another, it shows great character to pass it successfully on the first attempt.  I would just add that our customers can rest assured that we are doing everything we can source these tests for them.  Despite what you might hear, as was proven yesterday when we booked two driving test slots for early July, they are still available and we leave no stone unturned in securing them for our customers.  That said, it still needs passing when we do source it, and Alastair is leading by example here by doing everything he could to pass it on the first attempt so as to minimise delays."
BIG TOM Driving School provides a comprehensive 40 hour training package.  Alastair gained experience driving in Stamford, Sleaford, Peterborough, Spalding, Boston and Grantham.  He also practised driving on a motorway and a multi-storey car park.  The driving training that is provided on the flagship course provides depth and variety to the learning experience – it is not just a case of limiting driving training to driving test routes.
There is a very handy Help Centre provided at the bottom of the web site that provides information of the way BIG TOM helps customers to develop into safe, confident and competent independent drivers.  Alastair passed his test this morning in Boston with just 3 (minor) driving test faults committed.  This is very typical of customers who purchase the 40 hour all-inclusive BIG TOM course, 5 or less driving faults committed on a driving test is common to see if you browse through our blog.  We also have a high rate of what is referred to as First Time Passes – and this has always been the way, even pre-Covid.
One of the limitations if they had only trained in Boston is that it does not have national speed limit dual carriageways with slip roads to practise entry and exit.  It is also very flat, so Alastair would not have had the opportunity to develop the skills needed for hill starts.  This is why they had chosen to train in all the locations listed, so as to provide a broad range of driving experience.
Alastair started his driving training on 26/04/2021 and has managed to pass his driving test just 5 days after completing his in-car training. So he has passed his driving test just 19 days after starting his in-car training.  This is a typical example of the timescales that BIG TOM aims to work to on behalf of customers.