Changing the Driving Test Date
How to Change the Driving Test Date
This blog explains the process involved in changing a driving test date.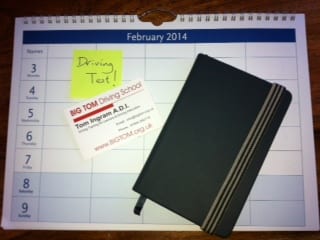 The Driving and Vehicle Standards Agency (DVSA) website is the best place to go for booking and changing your driving test dates.  Here is the LINK..  There are organisations that provide the same service but can charge more, for no extra benefit.  You can change a driving test date either on the phone, or online completely free of charge.
You are able to change your driving test date up to 6 times without financial penalty, but do be aware that you must give them a clear 3 (working) day notice.  Make sure you don't get caught out on that; informing them on a Friday about wanting to change the test for the following Monday is NOT 3 working days notice.
At Big Tom Driving School, we pay careful attention to the proper timing of a driving test.  Too soon, and even if you were to pass the test, you might feel very uncomfortable and nervous about driving independently following the test.  Too late, and you will be wasting your money on driving lessons you do not need.  We have a very easy and precise process that we go through to test your readiness for safe independent driving, post test; it enables us and very importantly YOU to see first hand, what your driving ability is in a variety of different driving conditions.  This process that has been uniquely developed for our customers has proven to be very beneficial for developing confidence, and improving readiness for the driving test. Although people often treat the driving test like an academic exam, with last minute swotting, it is worth emphasising that you are learning a life skill that will very likely be used every single day after passing the driving test.
Whilst the experience of a failed driving test should not be a waste of your time and money, at Big Tom Driving School, we pride ourselves on providing a quality service and value, by paying attention to aligning your driving test date to your confidence and ability. Ultimately though, every person who wishes to take the driving test in the UK has the right to use their own vehicle for the purposes of taking the driving test (subject to certain conditions on type of vehicle set by the DVSA and also subject to having insurance arranged for that purpose).
It is understandable why people will be keen to go to test as soon as possible, but it should be borne in mind that according to DVSA statistics, the national average pass rate is just under 50% with only very slight differences for the gender of the candidate, and the FIRST TIME pass rate is lower still. As such, the evidence does tend to suggest, that the majority of people are attempting the driving test too soon. Further evidence from viewing the BBC 3 series "Barely legal driving" does also question how ready some people are for driving independently after passing the driving test. Another mark of the standard of driving post-test is reflected in the very high premiums demanded to insure vehicles. The DVSA state that statistically, 1 in 5 newly qualified drivers will have an accident within 2 years of passing the driving test.
Check out our FAQ's HERE.