Our 5 Day Intensive Driving Course in Grantham gets results!
April 19, 2015

Categories: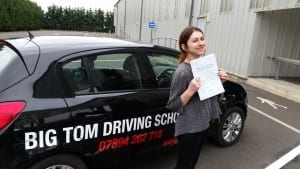 This is Kelly who recently passed her driving test after doing the BIG TOM 5 day Intensive Driving Course in Grantham for £597.
She has a big smile on her face as she really, really needed to pass her test before she flew off for a year abroad! Time was very tight for Kelly! Her Examiner was the Test Centre Manager at Grantham Driving Test Centre who she said made her feel very calm, and helped by having a relaxed manner.   She was one of the first to pass her driving test at the newly located Test Centre on the A52, and she had no complaints at all with the new set up. Having passed her test first time with less than 5 driving faults she was very complimentary about the time she spent with BIG TOM Driving School on her 5 day Intensive Driving Course in Grantham.
"Great guy who knows what he is doing, I would definitely recommend" – Kelly
Thank you Kelly for your feedback, and have a really great time abroad!