Where is Peterborough Driving Test Centre?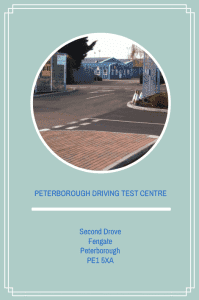 Peterborough Driving Test Centre is in Fengate, Peterborough.
It is within a fairly busy industrial estate, about a mile from Peterborough City Centre.
The full address is: Second Drove, Fengate, Peterborough PE1 5XA
The image you see here, is from inside the car park.  It has several car parking bays as it can accommodate 6+ driving tests in any one slot.  The first driving test slot is just after 8am and the last is mid-afternoon, it does run driving tests on Saturdays for a slightly more expensive fee.
Big Tom Driving School organises all driving test bookings to fall perfectly in line with your driving lessons in Peterborough, so that you do not have any unnecessary stress.
For those familiar with Peterborough and wondering where Peterborough Driving Test Centre is, it is very near the Peterborough Greyhound Stadium.