June 15, 2015

Categories: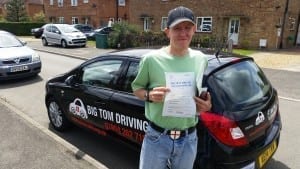 Big congrats go to Tim for passing his driving test in Grantham today!
This photo shows Tim immediately after passing his driving test in Grantham today. When he came to "BIG TOM" he had already had two driving test fails with a previous driving instructor. So we worked really hard with Tim to buck that trend. And Tim showed a lot of perseverance, and courage as he still went to test, despite suffering 3 failed mock tests too. But his determination paid dividends, especially when he heard those magical words from the Examiner "I'm pleased to say that you have passed your test".
Tim mentioned how beneficial he found it to go through the process of doing the mock tests in Grantham, so as to raise his general standard of driving. He overcame issues relating to identifying hazards early and anticipating how they might develop, selecting the correct speed and gear on approach to junctions, doing effective observations when reversing, and adapting his driving to reflect differing conditions.
A massive well done to Tim, we wish you happy and safe driving!