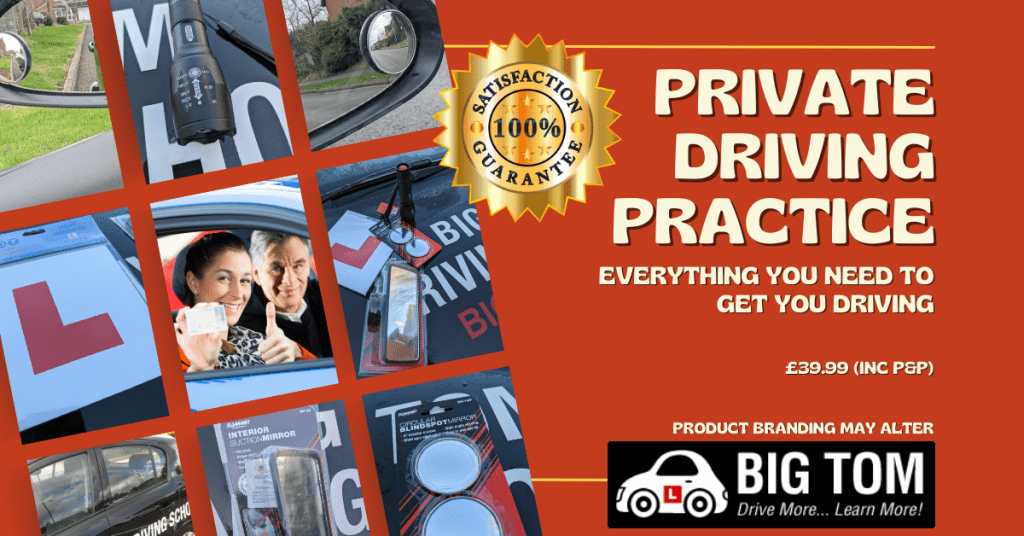 Everything you will need to get your private driving practice off with success
BIG TOM has been listening to our customer feedback and is very pleased to announce a superb starter kit to help pupils with their private driving lessons.  This pack has everything you need to get you on the roads, comply with the law by displaying correct L plates, and all the necessary equipment for pupils and supervising drivers.  Included in this pack that is delivered to your door is:
An internal suction mirror complete with prep pad*
Circular (blindspot) mirrors for both side mirrors – to assist pupil and supervising driver check for accuracy of positioning on manoeuvres
Compact torch to help the supervising driver easily see documents while practising driving in the dark – just like our In-car Training Pack that helps to keep everyone safe and monitor progress
Regulation size fully magnetic "L" plates for the front and rear of the vehicle – for easy fitting and removal**
All of this delivered to your door for £39.99 – simply email "Starter Pack" to info@BIGTOM.org.uk and we will get back to you to process your order.
This is the perfect gift for parents/grandparents or friends who intend to accompany pupils on private practice driving lessons.
Please allow up to 5 working days from purchase to delivery (delivered to UK only)
All of these products have been used by BIG TOM for over 10 years, they are tried and tested. If you are not entirely satisfied you can claim a full refund within 5 days of receipt subject to the products being returned in the condition/packaging they were provided – customer to pay for return delivery.
Branding of products may differ to those shown when stocks run low.
*Refunds cannot be provided for mirrors that do not permanently stick – BIG TOM Driving School cannot be held responsible for the cleanliness/suitability of the surface that the mirror is being applied to. The suction of mirrors does not last indefinitely, that would not be possible.
** Magnetic "L" plates can come away from the vehicle in adverse weather conditions