You can now give your private driving lessons the professional touch with our exclusive BIG TOM driving training pack. This training resource will help you to recall important details to be a safe driver and pass your driving test. Make sure you don't miss out on any helpful driving tips and key driving test information.                                  Only £89 No extra p&p to pay – credit cards welcome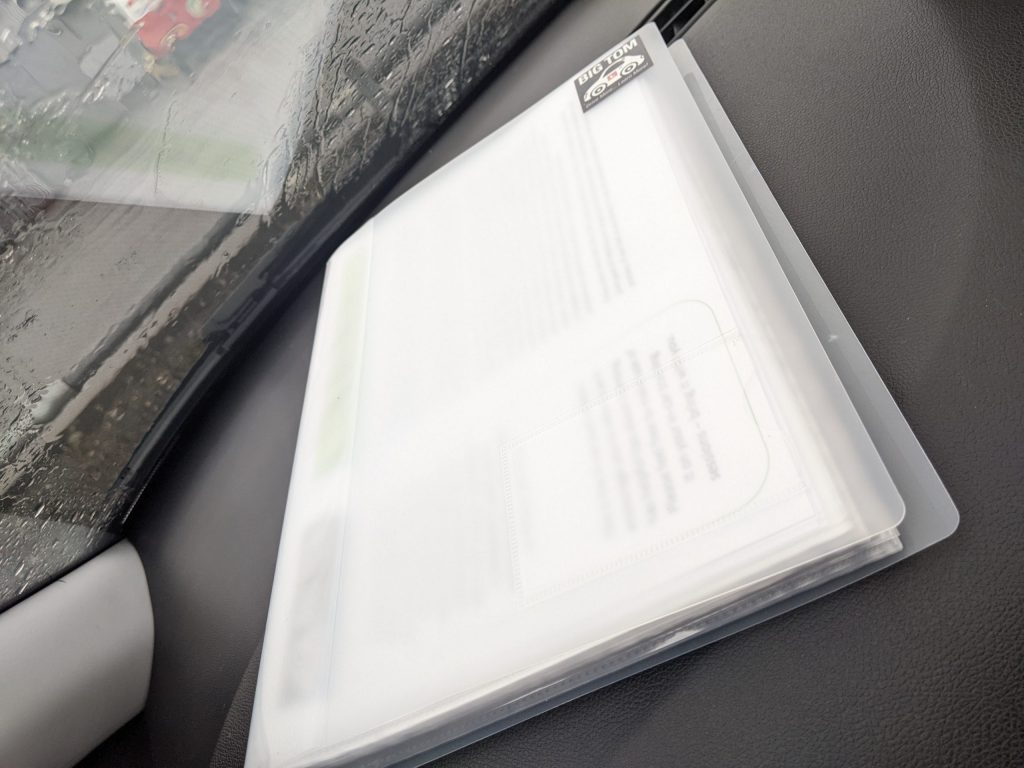 Customer Deborah White realised that access to good quality resources saved her a great deal of money:

What makes Tom different to other instructors is the amount of material / videos etc that you are given – saved me hours of lessons
We know that more and more people are choosing to take responsibility for their own private driving lessons but would like some guidance on how to make them safe and effective.
There are also increasing numbers of people who are taking driving tests in their own private car – but could do with information about how the driving test is conducted and driving ability is assessed.
Boost your confidence levels with professional guidance that has helped pupils pass their driving test for over 10 years
Our training pack which is delivered to your door is packed with 40 pages of up-to-date, accurate practice material from a DVSA registered driving instructor.  Supervising drivers have told us over many years that this resource is essential for taking the frustration and fear out of private driving lessons.  This will help you to keep your car and yourself safer with a structure to your driving practice.  It will also help you to remember some of the details that you might have forgotten over the years.
Order NOW and you will also receive, completely free of charge, a complimentary edition of The Official DVSA Guide to Learning to Drive – this book contains 200 pages of tips and advice about the driving test. It is split into two sections, the first for pupils learning to drive and the second for accompanying drivers who are helping to supervise the private driving lessons. This bonus gift is available for a limited time only.
You will learn some superb tips on how to effectively learn to drive by reading helpful, easy to understand text that has been developed after years of experience top quality driving lessons by a qualified driving instructor.  There are techniques that have been helping our customers for years, look at what they have to say: Also in the training pack are beautifully presented graphics to help you with car parking, parallel parking and with roundabouts.
"…a very professional instructor with excellent learning techniques that helps you feel informed throughout"
"Tom gave me some brilliant resources to look at prior to my 5 day intensive course"
"This course also provided resources to help us along"
"You were also very good at explaining things in the simplest of ways and not over complicating things"
"I thought the resources provided to help me were very useful"
"Tom was extremely knowledgeable and gave clear instructions"
"There are lots of course materials too which were really useful"
"The resources sent over and provided were very professional and covered everything you could possibly need. Great service"
This driving training pack has been carefully created over several years, where we know it gets results. Just look at what previous customers are saying about it. You will learn how best to learn for you, and it guides you through the process of self-evaluation which is a key element of effective learning.  You can discover what situations will result in driving faults being recorded on a driving test.  This resource will help to raise your awareness of what kind of practice works best for you personally.  You are provided with handy "remember this" tags, and also lots of top tips that go beyond the criteria of the driving test. It helps you and it helps your accompanying driver.
Typical questions you will be able to answer:
What gear should I be in for my speed?
How do I control the reversing on a parallel park?
What kinds of tricky things turn up typically on driving tests?
How long does a driving test go on for?
How do I know if I'm in the correct position in the road?
When should I start signalling on roundabouts?
This superbly presented training pack comes delivered to your door and is immediately ready for you to jump in and use straight away.  You will be invited to assess your technical ability and confidence levels with some helpful guides.  There are recognised effective learning techniques introduced to help you learn in the long-term memory and make progress, such as setting goals and retrieval practice.   You will discover a handy technique for reverse parking into a bay.  You will learn how to increase your confidence with a positive mindset and manage any negative thoughts including if you make mistakes.  You will learn about a superb technique to instantly manage feelings of stress or anxiety while you practice.
All of this is available to you NOW for £89 (no delivery fee).
One of the biggest concerns that supervising drivers have is the fear of passing on wrong information or bad habits.  This training pack will help you to keep up to date with the latest knowledge and best techniques for how to drive.  Our driving training is known for being thorough and we would recommend using this training pack, when the time is right (your driving instructor can advise), for keeping private practice positive and constructive. This is not intended to be a substitute for 1:1 training with a driving instructor due to the scope of the learning and the amount of detail required to learn to drive. But this pack will help a supervising driver who accompanies you when you practice.  If you want more equipment when you do driving practice in your own car such as mirrors and L plates see our very handy "Starter Kit" here
Fill in any knowledge gaps immediately by using this helpful guide. To order your in-car training pack and start practising like a pro, email: admin@BIGTOM.org.uk with "TRAINING PACK" as the subject or call 01928 508 833 NOW
[Please allow 7 working days for delivery from the time of purchase – we make every effort to under-promise and over-deliver]