Are We Losing Our Drive to Drive?
December 3, 2013

Categories: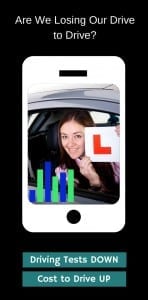 The number of UK people taking the practical driving test has decreased 12% since 2007/8. Recent research indicates 41% of UK car owners are driving less due to the costs of driving.
What does this mean?  Is driving becoming less "fashionable"?
Absolutely not! The demographic figures for birth rates in the 90's and insurance costs for 17-20 year olds, undoubtedly do have an impact on the above statements but the freedom that being able to drive provides for people in their mid 20's and onwards is an enormous benefit!
For the early Millennials of us, re-locating for careers, commuting to work, school runs for kids, and family holidays in the UK are all superb benefits and for some, essential for the time pressures of family life. Learning to drive offers freedom and independence.
Ben Rossi (25 yrs) who passed his driving test at Grantham recently, shot up North the very next day after passing his driving test at Grantham, to find a new home and start a new career!  Driving is essential to his work. This is what he sent through after the dust had settled…..
Hi Tom,
I bought a car today, a 07 fiesta 1.2 in awesome condition. Drove it back from Coalville all the way here to Staffordshire having not driven since my test! Loved it, went on the country roads rather than the motorway to get used to the car. Went on some dual-carriageways and multi-lane roundabouts as well, I even overtook a tractor! :P. Really enjoyed it on the country roads. So glad I managed to do my driving. Because of your teaching, while I was nervous getting in the car on my own for the first time, I felt confident enough to drive off and not worry or panic and go home safely and loved every part of the journey. Thanks again!
Ben
Learn to drive from £597 with Big Tom Driving School – "Drive more, experience more, learn more!"